Tailgate & Celebrate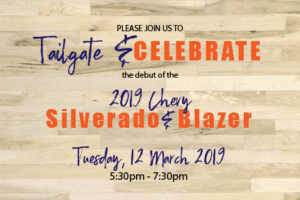 Have you heard? The Blazer is back!
2019 has brought us the newly redesigned Chevy Blazer and Chevy Silverado.  Each of these vehicles have had some amazing upgrades that you really do need to see in person.
Stop by the dealership on Tuesday, March 12, 2019 to take an up close look at both of these beautiful vehicles.  We will have several trim levels of both the Blazer and Silverado for you to take a look at, sit in, touch, feel and smell!  Enjoy some delicious tailgate food while you are here, play a few games and enter to win any number of prizes!
RSVP online at: https://www.facebook.com/events/390787501468710/
We look forward to seeing you and showing you around the new Blazer and Silverado!