OUR 'TRUNK OR TREAT' EVENT IS OCT 31!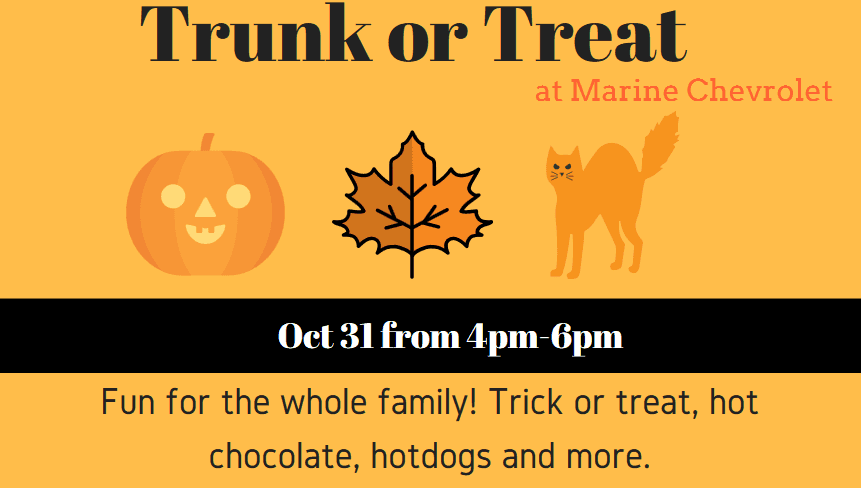 Marine Chevrolet Cadillac is hosting a Fall 'Trunk or Treat' Event with the United Way and their partnering agencies on October 31st, 2016 from 4pm-6pm. This will provide a great opportunity for a fun evening in a family safe environment for Halloween.
What is Trunk or Treat?
We will have a variety of Chevrolet and Cadillac vehicles whose trunks will be uniquely decorated by each organization. Trunk-or-treaters are encouraged to visit each trunk to collect goodies and get their punch card punched. Our visitors can also enjoy complimentary hot dogs, hot chocolate, games, and face painting. A live DJ will provide music and we'll have a photo booth to capture the fun!
Don't Forget!
A Spooktacular prize will be given away to one lucky trunk-or-treater who visits each trunk and turns in their completed punch card.
We are partnering with the United Way and their partners for this event.
Partners of the United Way:
Belgrade Community Action Association; Boy Scouts of America, East Carolina Council; Brigade Boys and Girls Club of Greater Onslow; Girl Scouts, NC Coastal Pines; Onslow County Partnership for Children; Onslow Literacy Council, PEERS Family Development Center; Sponsors for Academic Talent; Onslow Community Outreach; Friends of the Aging; Onslow Women's Center; & Possumwood Acres Wildlife Sanctuary
Special Guests also participating in our event:
Adoption First Animal Rescue