Oodles of Noodles – CHEW Food Drive
Each school year there are hundreds of school aged kids who depend on the school system for their meals each day, that may end up being the only way they are able to put food in their stomachs.  What happens on the weekend when the school isn't able to provide nourishment for the kids?  If a child has inadequate food on the weekends, it impacts their ability to focus on schoolwork as well as physical issues such as head and stomachaches.
How can we help?
The United Way of Onslow County has a program called CHEW – Children Healthy Eating on Weekends, where they provide two days of meals for children who have challenges meeting nutritional needs outside of the school.  Each child is sent home with a bag of food to sustain them through the weekend so that they can come to school ready to learn and able to take advantage of all the educational opportunities available to them.
This year, the CHEW program is supporting 36 schools in Onslow County, providing meals for 900 students.  That is 1,800 meals each week the United Way is responsible to pass out.  Over the course of the school year, 72,000 meals are provided to the students in Onslow County.  They can't do that without the help of our amazing community.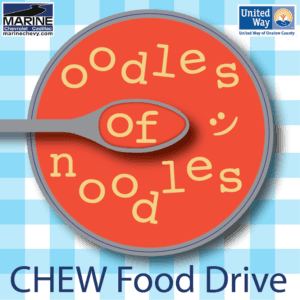 This fall, Marine Chevrolet has decided to hold a food drive to support the CHEW program and the efforts of the United Way.  We are asking for donations of noodle items to help stock the pantry at the CHEW house with meals they can pack in bags for the weekend.  Donations of macaroni and cheese, ramen noodles and cans of soup are all great items that are simple for families to make and provide sustenance when school lunch is not available.
Help us meet our goal of 3,600 items, two weekends of meals for the students of Onslow County.  Donations will be accepted in the showroom until October 2, 2020.  Please consider adding an extra can or two of soup the next time you are grocery shopping and dropping them by after your next Target run!