Jacksonville Area Spring Events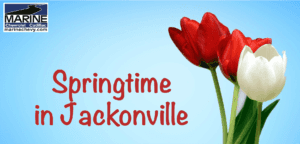 The upcoming months in Jacksonville are going to be filled with fun and excitement as the city and community prepare for warmer temperatures and longer days. From fun runs and marathons to family festivals, Jacksonville offers a variety of events for every interest and a scene for everyone; whether you're young or old, a family or a couple, you'll be sure to find a way to have a good time with the community of Jacksonville.
The month of March begins with the annual Engaged Onslow event on March 14th. This expo is a chance for all upcoming brides to meet DJ's, bakers, florists, caterers, explore venues, and more! There will also be tons of prizes, deals, and cash giveaways; you'll be guaranteed to find wedding planning a breeze after exploring Engaged Onslow. Animal lovers will be sure to love the second annual Onslow Pet Parade on March 21st. The parade will take place at Georgetown Park from 11:00 AM – 1:00 PM. Bring your family, friends, and pets for an afternoon full of fun and events perfect for any pet-owner. March 28th will bring the annual Easter Egg Hunts from 11:00 AM – 1:00 PM at the Jacksonville Recreation Complex Youth Baseball Fields. Bring your Easter egg basket and be ready to hunt! 
April brings us the annual Run for the Warriors. Honor those injured by the events of 9/11, those who lost their lives that day, and their families by running a 5k, half marathon, or a mile. Information varies and can be found at https://www.hopeforthewarriors.org/sports-recreation/run-for-the-warriors/. The Eastern NC Community Band Festival will be on April 18th from 10:00 AM – 4:00 PM at the Riverwalk Crossing Park. A variety of community bands from Eastern North Carolina will be performing for all to see, accompanied by food trucks, crafts, and activities for all ages. Another event great for those who love a challenge is the Marine Raiders Mud, Sweat & Tears 5 Mile Mud Run. Honor those who serve by participating in this 5 mile race that includes mud and off-course running.
The first weekend in May takes off with the annual Jacksonville Jamboree, a day-long festival perfect for anyone looking to have a great time. Watch the statewide baseball and softball tournaments as you snack on great food offered by a variety of vendors and play games for all ages. The Jamboree is on Saturday, May 2nd from 10:00 AM – 6:00 PM at the Jacksonville Commons Recreation Complex. Following the month of May is the New River Splash festival, which includes a triathlon, swimming and kayaking competitions, a cornhole tournament, and many other outdoor activities. Vendors will be there for all ages as well as a Kids Zone for the family. The festival will be on June 6th from 7:00 AM – 1:00 PM on Kerr Street in Downtown Jacksonville.
As well as these events, the Onslow County Public Library offers a variety of activities throughout the week for families all year round, such as Preschool Storytime and Bookaneers Jr. You can find out more about the OCPL at https://www.onslowcountync.gov/150/Library. The Jacksonville Recreation and Parks also offers fun activities such as holiday lunches and Daddy Daughter Date Night. More information can be found at https://jacksonvillenc.gov/789/Recreation-Parks. Hopefully you'll find an event, activity, or festival that's a perfect fit for you and your family; the Jacksonville community hopes to see you having a blast at our local events during these upcoming months!